Creating fantastical 1930s & 40s inspired Water Ballets with a cheeky modern twist.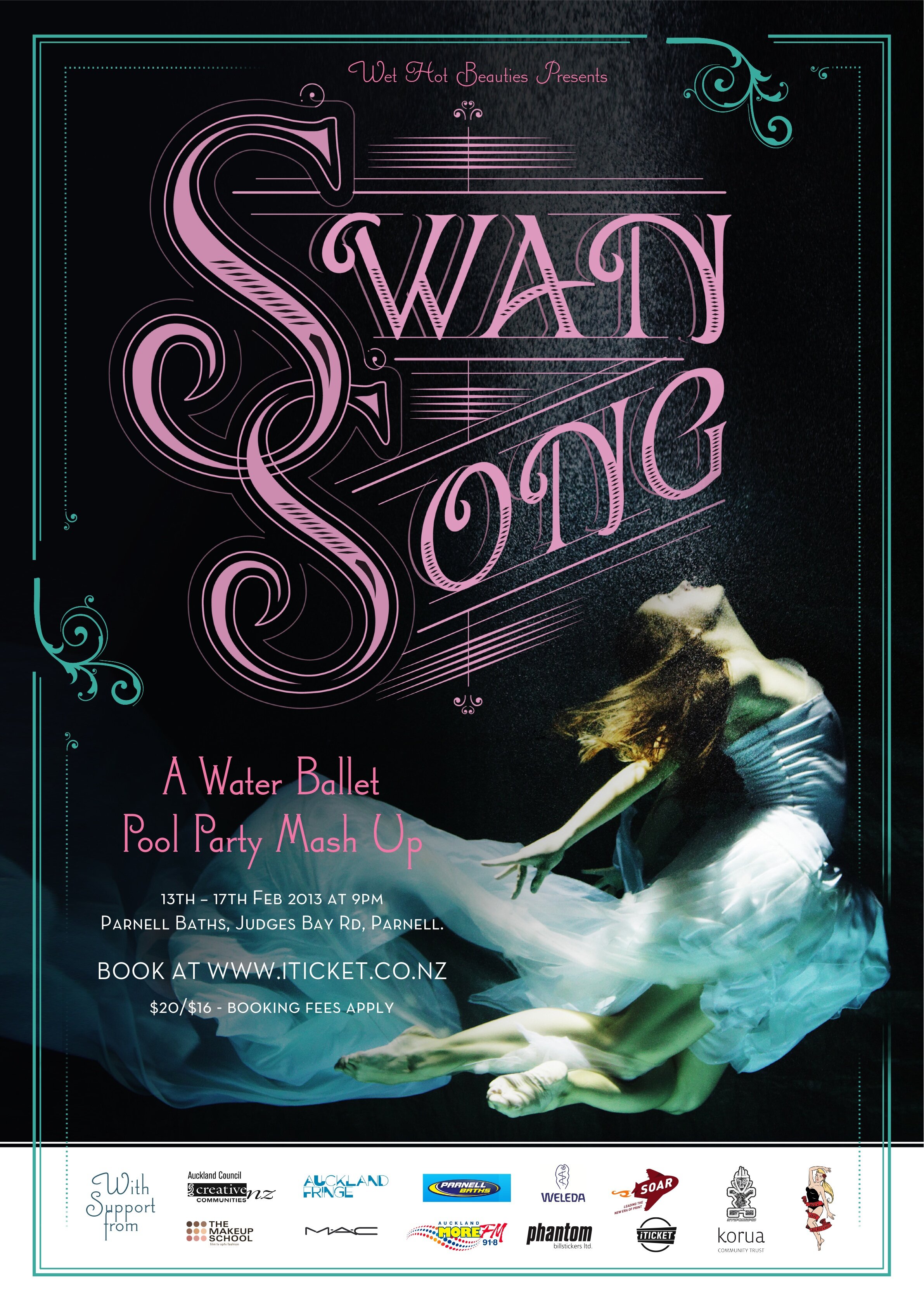 ~ Charming Yet Deadly ~
Water nymphs as you've never seen them. Watch and be amazed as salty seductresses glide in synchronicity, bringing red-lipped kisses of life to the bygone art of the Water Ballet. Spectacular, hilarious and with rocking great moves, this most stylish troupe of mirthful mermaids rocks the shallows.
~ Glamour! Excitement! Danger! ~
Luscious leggy ladies in white cloche swimming caps and blood-red smiles, the WHBs are inspired by the charming and spectacular aquacades of early cinema's delightful 1930s and 1940s era, and the kaleidoscopic designs of Hollywood movie director and water musical choreographer, Busby Berkeley.
The Wet Hot Beauties community gathers afresh each Auckland summer to learn a new skill and to create a quirky new art form – the contemporary water ballet. It's physical, it's challenging. It's theatrical, it's unique.  It's glamorous and classy – but most of all – it's fun and it's cool.
Coming soon: ~ Wet Hot Beauties presents Swan Song – a classical love tragedy pool party. ~ 100 tutus flock to the water in a romantic and epic tale of star crossed lovers, dark magic and water fowl. This fifth WHB season and second theatrical show in Auckland Fringe Festival Feb 2013 will sell out!
~ Sirens – a Contemporary Water Ballet, Feb 2011 ~ Seventy salty seductresses luring mighty sailors to their doom. Broken-hearted and hungry, these mermaids from the deep will not be satisfied until they have what they want – men! Can you resist the Sirens call?
Winners of the inaugural Auckland 2011 Fringe Peoples Choice Award, and the "media's feel-good, sold-out hit of the summer", Sirens was one of the largest outdoor event theatrical shows in the Auckland 2011 Fringe Festival.  With a cast of 80, the show was sold-out before opening, and was awarded the Hackman Theatre Award's Best Special Effect of the Year.
~ WHBs on Close Up, 5/4/2010 ~ "40 women all glammed up and frolicking together in their swimsuits – this is a spectacle at any time of course – but on this particular occasion they were even frolicking in time. Sort of sychronised frolicking. They've been inspired by the synchronised swimmers of the 1940s to put on shows of their own."
The Wet Hot Beauties are fully inclusive.  Anyone who wants to can join.  We have women and men too, from teenagers to those in their fifties, who come from all sectors of the community – stay at home parents, students, lawyers, journalists, florists, artists, teachers, yoga gurus and even a private investigator. For those who are a little daunted by getting into their togs in public, we encourage them to still be part of the whanau by giving them pool side dry-roles.
Incredibly fun and infectiously entertaining both to participate in and to watch, the Wet Hot Beauties are the hottest pool party each summer.